INSTITUTIONS / HOSTEL / SCHOOL
CLIENT:Thotchan Baptist English School Kachai.
Location:  Kachai Near Imphal Manipur.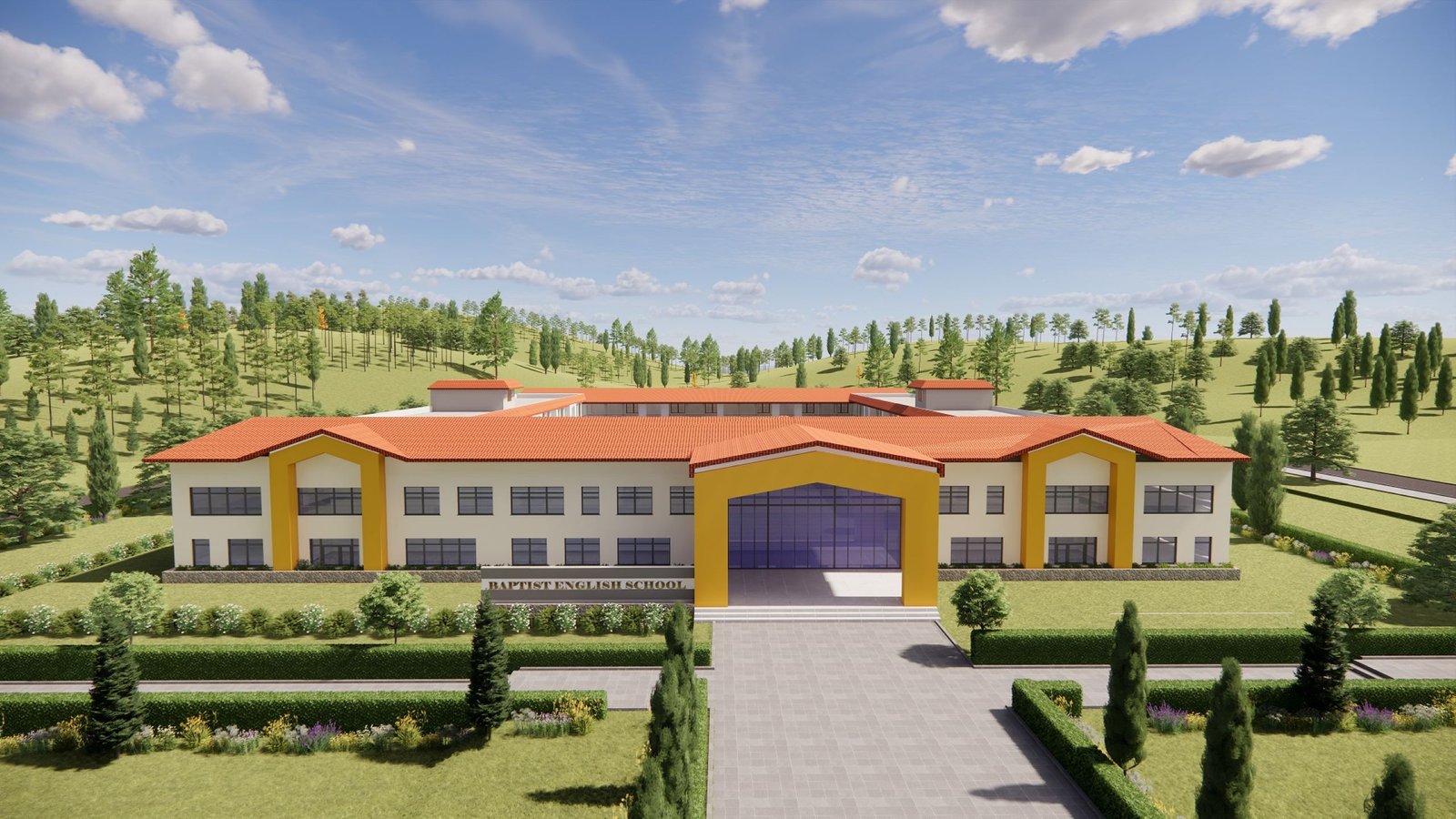 PROJECT DETAILS
Thotchan Baptist English School in Kachai, near Imphal, Manipur, features a pragmatic architectural vision centred on a simple rectangular plan tailored to the site's even shape. This design concept encompasses a hostel building divided by gated compounds, addressing the need for covered spill-over spaces and public amenities. The balance between public and private spaces is artfully achieved, with a minimalist material palette of white surfaces and Kota stone flooring ensuring cost-effectiveness. The addition of primary colours lends a touch of luxury, reminiscent of Le Corbusier's style, resulting in an architecturally innovative and affordable educational space at Thotchan Baptist English School.
---

CLIENT:Jindal Institute of Power Technology.
Location: Tamnar, Raigarh, Chattisgarh.
PROJECT DETAIL
Nestled amidst the tranquil landscape of Tamnar, Raigarh, Chhattisgarh, the Jindal Institute of Power Technology stands as a harmonious blend of nature and architecture. Surrounded by swaying palm trees and vibrant clusters of flowers, the campus exudes serenity and natural beauty. The architectural design, characterized by its minimalist approach, showcases buildings with predominantly off-white exteriors, creating a soothing and understated aesthetic that perfectly complements the picturesque surroundings. Jindal Institute of Power Technology embodies a seamless integration of nature's splendor and elegant architectural simplicity, offering an inspiring environment for learning and growth.
---
CLIENT: SHRI MUKTINATH BALIKA INTER COLLEGE.
Location: NARYANPUR BALIA UTTAR PRADESH.
Shri Muktinath Balika Inter College, nestled in Narayanpur, Balia, Uttar Pradesh, boasts a distinctive architectural identity defined by its innovative and louvristic façade design philosophy. The campus features predominantly off-white exteriors, reflecting a thoughtful approach to mitigating excessive heat from the sun while creating a serene and tranquil atmosphere. This innovative design not only harmonizes with its environment but also ensures a calm and soothing ambiance. Shri Muktinath Balika Inter College stands as a testament to the fusion of architectural ingenuity and environmental consciousness, offering a refreshing and comfortable haven for learning and personal growth.
---
CLIENT:ARISTOTLE WORLD SCHOOL .
Location: JASWANT NAGAR UTTAR PRADESH.
Aristotle World School, nestled in the heart of Jaswant Nagar, Uttar Pradesh, serves as a beacon for students hailing from the surrounding regions seeking vocational and skill-based education. With a diverse age group ranging from six years and up, ensuring the utmost security and safety is our paramount priority. The school's architecture harmoniously integrates natural stones such as Kota, Shahbaz, and Kadapa, which have been artfully employed for flooring, desks, and ledges.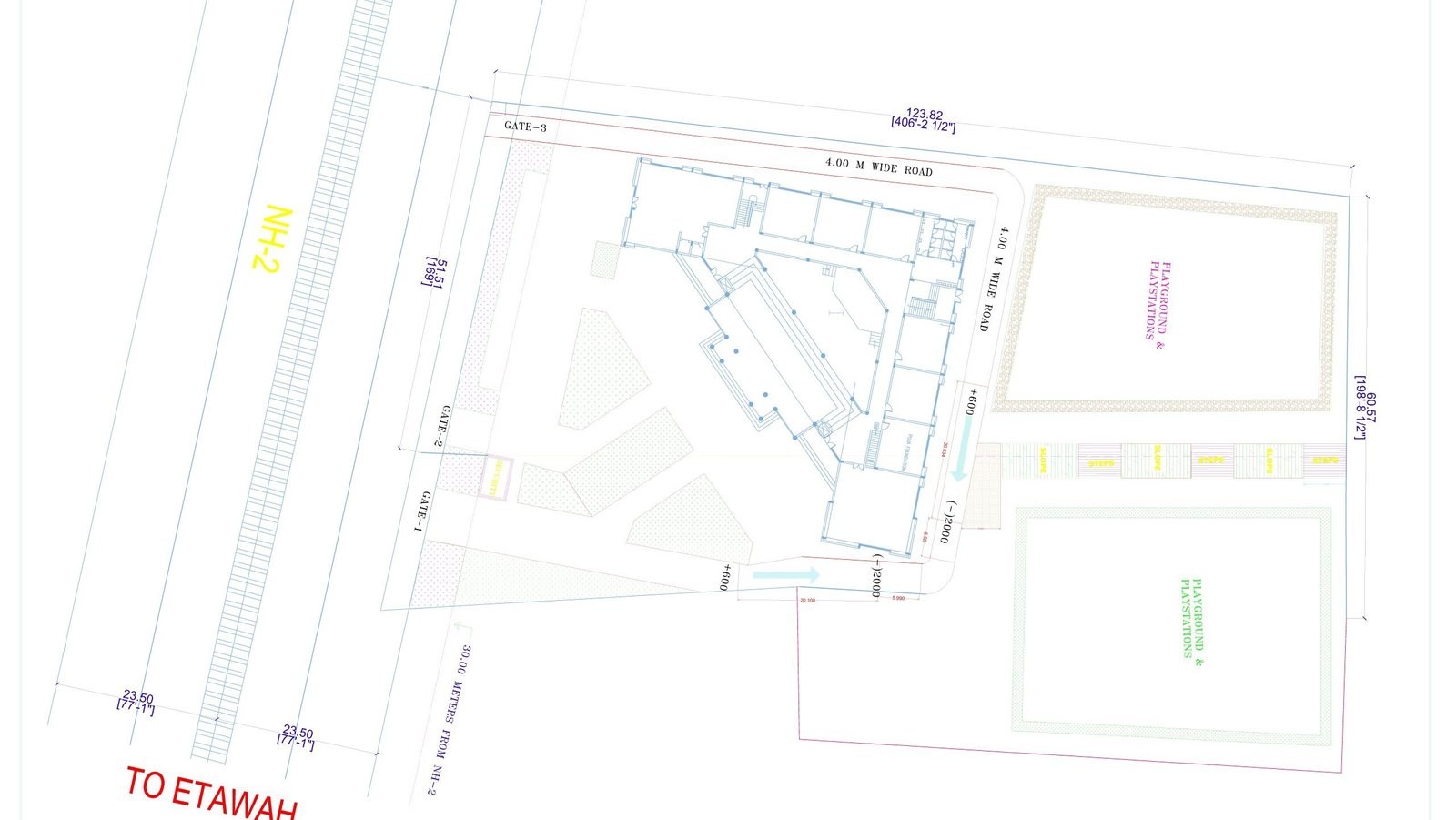 The central architectural concept revolves around a simple yet innovative triangular plan, carefully designed to adapt to the unique contours of the site. The ground level of the front half of the campus is dedicated to public spaces, creating a welcoming and open environment for all. Meanwhile, the rear portion of the campus houses an expansive reception area, seamlessly connected to a modern dining and kitchen facility. This architectural masterpiece embodies both functionality and aesthetics, providing an enriching and secure educational environment for our students at Aristotle World School.